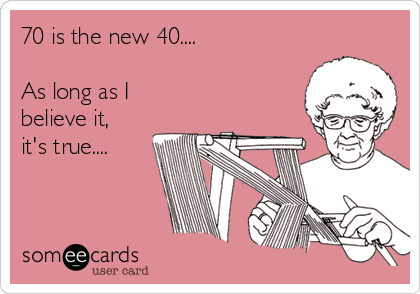 David Bowie: Aging is an extraordinary process where you become the person you always should have been.
I recently read an article written by Adam Chester entitled "Seniors Gone Wild: 70 is the New 40." I immediately ripped it out of the magazine, with my promise to read it "later." Surprise, it's only been in my file folder for two weeks!
Adam talks about his 76-year old grandmother ("Nana") being his most active Facebook friend. He gets daily updates of Nana's activities via his social media newsfeed. Nana could be dancing at her favorite restaurant with friends half her age or walking her dog on the beach. She shares everything she sees online, including dogs carrying umbrellas and 18 hilarious selfies, and she takes every quiz she can find.
Adam believes that Nana's activities on her "pocket computer" are related to the grieving after her husband of 50 years passed away. There is no proper way to grieve, but Adam highlights the manner in which his grandmother treats her day-to-day affairs with energy and gusto. Nana, of course, emotionally suffered after her husband's passing, but she didn't allow her grieving to stop her from living life to the fullest.
Adam describes Nana (even before her husband passed away) as a go-getter, world traveler, and enthusiastic social butterfly. Most of us probably imagine a 70-year old grandmother sitting in a rocking chair with a ball of yarn on her lap and several cats at her feet. But not Nana! Because of Nana's life-long thirst for life, Adam sees a change in his expectations for his future self and the manner in which he views seniors today.
I often wonder how my mother would have adjusted to the idea of a small pocket phone that would do everything she dreamed of. Would my mother have gotten the hang of email or checking the movie schedule on an app? What if she forgot to record her favorite TV show, and then could set the recording on the DirecTV app in a minute? I picture my mother walking around in a daze because of all the new imaginative things we now take for granted. Do you agree?
Aging is what you make of it. As Adam states, "Although 70 is the new 40 sounds cliché, I'm certain that Nana and others like her are giving merit to this expression." I have several friends approaching 70 and they can run circles around me, a mere youngster only ten years younger.